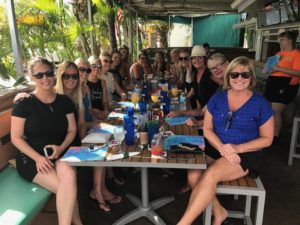 Rick's Reef in St. Pete Beach, FL has long been a gathering place for friends and family in groups both large and small. The atmosphere is fun and casual, and the space inviting. With a varied menu and a full bar, Rick's Reef is good for Groups and Large Parties! When it's time to plan your next gathering we're here to help! You can start by filling out the form below!
Wedding Rehearsal Dinner Parties
For most people, there are very few days that are more important than their wedding day. But the Wedding Rehearsal is an important lead up to that special day, and it is more than just a time to practice. It is a gathering of friends and family, and a time to share the joy. Rick's Reef understands that, and they LOVE to be a part of it with you. Our attentive staff will ensure that your wedding rehearsal dinner is one you will remember for a lifetime.
Corporate Events and Parties
When it's time to pull the team together, whether to bring the focus to a particular project, or area of concern, or whether to simply say thanks or celebrate, Rick's Reef on St. Pete Beach is the perfect spot. A good corporate structure is crucial to success, and just as doing your job well is important to your company, serving your staff and making them happy is a focal point for everyone at Rick's Reef. You can trust us to make your event a perfect way to pull the troops together and plan for the battle ahead!
Family Gatherings
Looking for the perfect spot for your family to come together? Do you need games for the kids? Entertainment for the adults? A place to watch the big game? Food for every taste? Rick's Reef has years of experience with large family groups and can cover every base for you. Just use the form below to contact us and we'll help you with every detail! We understand the importance of family, and we're here to help you.
Good for Groups and Large Parties
Regardless of why your group wants to gather for a large party, Rick's Reef can help. Just fill out this handy form to get started.